Crossover cars are vehicles that have the bodies of an SUV or minivan but are set on a car chassis. The benefit of this structure is that they offer an increase in interior space, especially for passengers. Crossover vehicles also have a smoother ride and better handling than other cars with the bodies of SUVs or trucks that are set on a heavier chassis.
One of the main advantages of this type of vehicle may be an increase in operational efficiency, translated as better gas mileage. This is because the chassis is not as heavy and therefore the car, also known as a CUV or XUV, does not have to carry unneeded additional weight. This operational efficiency is highly sought after, especially by those looking to get the best gas mileage they can with higher fuel prices.
While crossover cars are becoming increasingly popular because of the comfort and efficiency, they do have some drawbacks. Trucks and SUVs are often meant to go on road and off road. That is one reason why they have a heavier chassis, which is more durable. Crossover vehicles are not meant to go off road, at least not in a way that could be very rough on the vehicle. For those who have such cars, the rule of thumb is to not take it anywhere they would not take a normal-sized vehicle.
This style of car started coming of age in the US in 2007, when more than dozen models hit the market in the wake of record-high gas prices. The light truck market, which includes both pickups and SUVs, had been on a substantial decline for several years. The crossover vehicle was seen as the answer to Detroit's woes.
The combination of comfort and efficiency seems to be resonating well with drivers, at least in the United States. While SUVs were declining, sales of crossovers grew 16% in 2007. The trend could continue for years to come as more manufacturers start releasing models with more features and choices.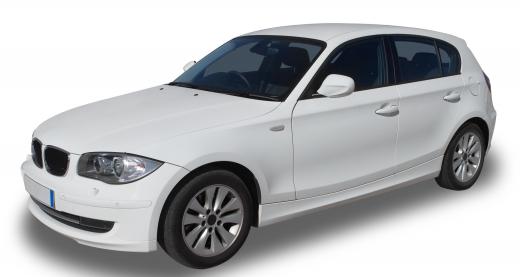 In fact, that diversification of the crossover vehicle has already started. Hybrid crossovers are already on the market, which makes the vehicles even more fuel efficient. Crossover hydrogen vehicles may make an appearance at local car dealerships as well. While the automobile market remains relatively volatile, its transition to a new type of vehicle may get a big boost with the acceptance of crossover cars.
AS FEATURED ON:
AS FEATURED ON:






By: Michael Shake

A crossover car has a minivan body on a car's chassis.

By: Patrick Poendl

Crossover SUVs can drive both on and off the road.

By: Robert Wilson

Crossover SUVs with small engines may get up to 30 miles per gallon on the highway.

By: xalanx

Many crossover cars are available in both two- and four-wheel drive models.